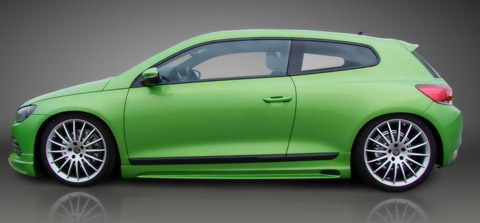 The 2010 JE Design Volkswagen Scirocco is a stylish car with stunning looks and a powerful diesel engine.
The JE Design employs a 2.0 L TDI inline-4 engine with camshafts, exhaust systems and intercoolers for the cooling of the engine. The maximum output power released by the engine is 205 bhp with a peak torque of 295 lb-ft. The maximum speed of the car is about 213 km/h and it marks the 62 mph speed in 8.4 seconds.
The suspension system features coil springs, stabilizers and shock absorbers that allows the cars height to be lowered up to 30 millimeters. The JE Design features 19-inch multispoke alloy wheels with polished edges and the wheels are covered with 235/35 R 19 tyres.
Specifications
Vehicle Type: - 2-door coupe
Configuration: - Front Engine
Engine: - 2.0 L TDI Inline-4
Horsepower: - 205 bhp
Torque: - 295 lb-ft
0-62 mph: - 8.4 sec
Top speed: - 213 km/h