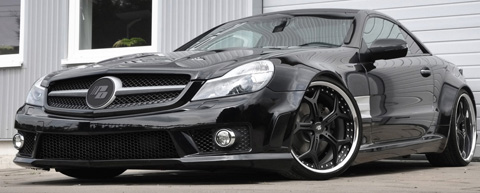 Prior Design revealed their most recent work just in time for the industry trade fair "Tuning World Bodensee". For your approval and consideration: we present the PD-Series based on the Mercedes-Benz SL R230.
The goal of the Kamp-Lintfort company was to transform the seemingly bulky Mercedes-Benz SL R230 into something more ideal and appealing. Thus, they came up with a design clearly inspired by the Mercedes-Benz SL65 AMG Black Series. This new aesthetic package for the SL R230 is comprised of a smooth and sleek form, huge air intakes and powerfully built sides to impress every enthusiast to date.
Large rims making up the side area of the car give the vehicle an intimidating look commanding recognition. Side skirts are expertly placed to connect the sides making it seem as if the entire body work of the vehicle was made to form a single piece.
Read more »